Long overdue Halloween report
I had this half typed out and I hit a button, closing the window without saving so now I have to start all over again!
Every year Thrive (my singles group for those of you who still don't know what it is after my always talking about it. LOL) throws a big Halloween costume party and folks go all out for it. This was my first time since I just joined the group beginning of this year but we had a blast!
I spent a few hours in the afternoon painting myself all up since I was going as a faery. I finished early though since I thought it would take me longer than it did. So now imagine this... I have a good three hours to go till I can leave for the party. So I'm walking around my apartment, trying to be veeerrry careful not to smear my artwork. As it was one portion of my right arm I had to redo about 7 times (too close to the elbow so every time I bent my arm - smeared it. And since I was doing purple designs there, I had a HUGE spot where I couldn't get all the paint off from the multiple times messing it up that looked like someone had hit me with a baseball). So here I am trying to keep my arms very still and not bending them too much to try to keep from messing it up again. Didn't work. I finally gave up on the one spot. LOL
I headed over to the party early since they had said they might need help decorating. I got detoured along the way though to pick up a few non-scary Halloween movies for us to play. As it was we only used the one over and over since it was just background anyhow. (The Corpse Bride in case you were curious.)
By the time I got there decorating was almost done so I just helped finish up.
Now all us Thrivers know that when a time is set for something to start, no one is ever there on time. They all want to be fashionably late. So the party was supposed to start at 7:00 but it was 8:00 before the majority of the people were there. There were some really wild costumes, some ordinary ones, some very creative ones, and some people who didn't wear a costume at all. The pictures I'll be posting don't even begin to show the full variety.
There was also a pumpkin carving contest for anyone who wanted to give it a shot. Several people tried their hands at this activity. It was too cold outside for a spring faery like me so I elected out of that one.
There was also a costume competition for scariest, most creative and funniest.
After the party I stuck around to help clean up so I guess I got home about midnight.
And now for those photos!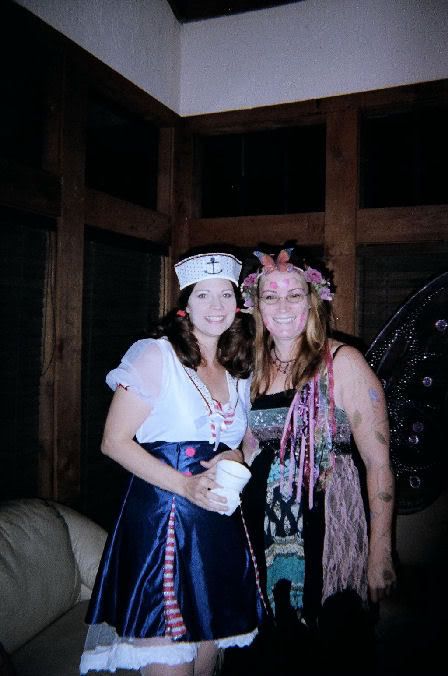 Sailor Barbie Stephanie and Faery Me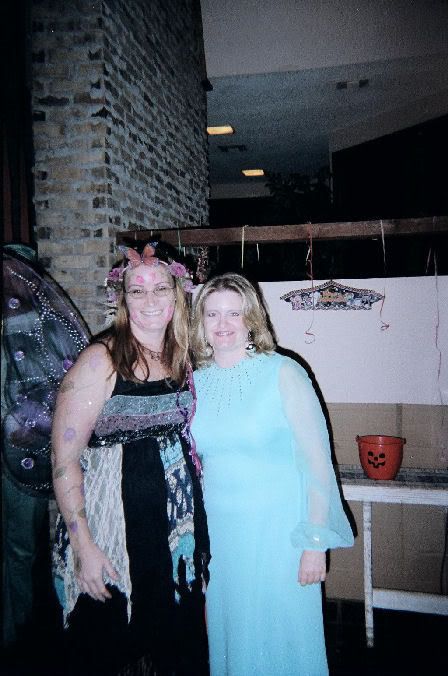 me and Karen
Casie - the sign says it all
Casie front
It's a bird! It's a plane! It's Super.... Carl?
The Matrix revisited
Our two princesses - Egyptian Lesley and Medieval Jessica
Barry and Otis' Elvis impersonations
Need medical attention? - Chris and Lisette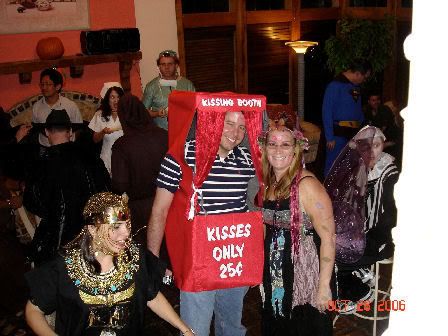 Mark in the booth and me
Captain Jack Sparrow, Elvis, Neo, Grey Mouse, and Faery pose for the camera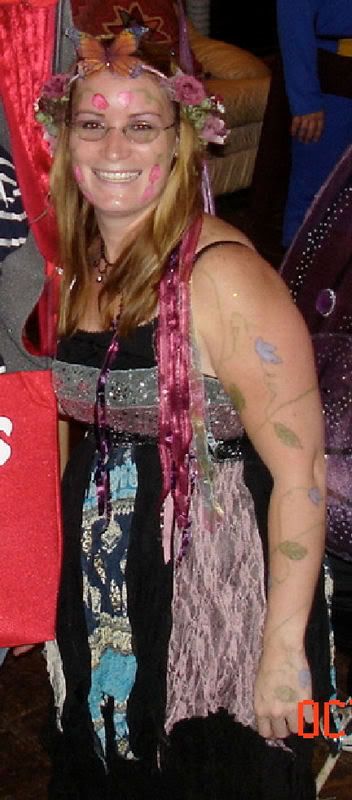 Had to show off my artwork with the body paint